Symphony of the Soil is an 1 hour 40 minutes documentary movie by Deborah Koons Garcia.
This movie have a very high educational value.
The goals in project are:
– dubbing the movie in Thai language then send an educational folder with the dvd to all upper secondary school in Thailand.
– organizing educational viewing in agricultural area across Thailand
Are you interesting in volunteering in this project?
More about the documentary:
Appearing and people involved in Symphony of the soil give this movie a high authority and credibility.
Ignacio Capella a Professor of Microbial Ecology at the University of California, Berkeley.
Dr. Elaine Ingham President and Director of Research, Rodale, institute; President and Director of Research, Soil Foodweb Inc.
Dr. Frederick L. Kirschenmann, a longtime national and international leader in sustainable agriculture.
Kate Scow joined the faculty of University of California Davis in 1989 and is Professor of Soil Science and Microbial Ecology in the Department of Land, Air and Water Resources.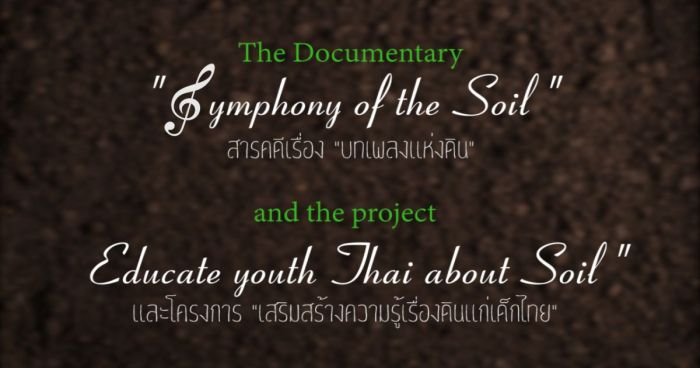 Helmy Abouleish, Managing Director of the Sekem Initiative
Professor Ibrahim Abouleish, Chairman of Sekem Group and Founder of Sekem
John Aeschliman, Farmer, J.E.A. Farms Ltd., Colfax, WA
Jack Algiere, Four Season Farm Manager, Stone Barns Center for Food and Agriculture
Dan Barber, Chef, Stone Barns Center for Food and Agriculture and Blue Hill Restaurant
Dr. Charles Benbrook, Chief Scientist of The Organic Center
Dr. Viraj Beri, Professor and Head of Department of Soils, Punjab Agricultural University
Bob Cannard, Farmer, Cannard Farms, Sonoma, CA
Dr. Lynne Carpenter-Boggs, BIOAg Specialist with the Center for Sustaining Agriculture and Natural Resources, Washington State University
Dr. Oliver Chadwick, Professor of Geography, University of California, Santa Barbara.
Jaspal Singh Chattha, Farmer, J & P Organic Farm, India
Dr. I.M. Chhibba, Senior Soil Chemist, Department of Soils, Punjab Agricultural University
Philippe Coderey, formerly the biodynamic manager for Bonny Doon Vineyard, Santa Cruz, CA
Dr. Julia Cooper, Lecturer, Nafferton Ecological Farming Group, Newcastle University
Dr. Laurie Drinkwater, Associate Professor, Department of Horticulture, Cornell University
Umendra Dutt, Executive Director, Kheti Virasat Mission, Punjab, India
Dr. Tewolde Berhan Gebre Egziabher, former Director General of the Environmental Protection Authority of Ethiopia and PhD in Plant Ecology
Dr. Kimberly Epps, Post-Doctorate in Soil Science, Stanford University
Anne Evans, Farmer, Blaencamel Farm, Wales
Josh Frye, Poultry Farmer, Wardensville, WV
Dr. Jerry Glover, Soil Scientist, The Land Institute, Salina, KS
Dr. Keith Goulding, Head of the Department of Soil Science at Rothamsted Research, Harpenden, United Kingdom
Randall Grahm, Owner, Bonny Doon Vineyard, Santa Cruz, CA
Dr. Zakaria El Haddad, Professor of Agriculture at Benha University and Director of the Egyptian Biodynamic Association
Dr. Michael Hansen, Senior Scientist with Consumers Union, Publisher of Consumer Reports
Dr. Paul Hepperly, Research Director 2002-2009, The Rodale Institute
Dr. Hans R. Herren, Co-Chair of the International Assessment of Agricultural Knowledge, Science and Technology for Development
Dr. Daniel Hillel, Retired Professor of Soil Physics and Hydrology and Senior Research Scientist at the Center for Climate Systems Research, Columbia University
Angela Hofmann, Coordinator of Agriculture and Instructor for Agricultural Engineers, Sekem
Patrick Holden, Farmer, Former Director of the Soil Association, United Kingdom 1995 – 2010
Rob Hopkins, Founder of Transition Town Totnes and the Transition Network
Dr. David Huggins, Soil Scientist, USDA Agricultural Research Service, Pullman, WA
Brad Jaeckel, Manager of Washington State University Organic Farm
Vijay Jardhari, Seed Saver, Farmer, Activist, Uttrakhand, India
Jennifer Johnson, Graduate Student in Biology, Stanford University
Elizabeth Kaiser, Farmer, Singing Frogs Farm, Sebastopol, CA
Paul Kaiser, Farmer, Singing Frogs Farm, Sebastopol, CA
Parminder Kaur, Natural Farmer, Kothy Gradhirin Wala, Punjab, India
Surinder Kaur, Natural Farmer, Kheti Virasat Mission, Punjab, India
Dr. Fred Kirschenmann, Farmer, Distinguished Fellow at the Leopold Center for Sustainable Agriculture, President of the Board, Stone Barns Center for Food and Agriculture
Jerry Konanui, Mahiai Farmer, Hawaii
Dr. Raj Kumar, Senior Pedologist, Department of Soils, Punjab Agricultural University
Satish Kumar, Editor of Resurgence Magazine and Program Director of Schumacher College
Dr. Tim LaSalle, CEO 2007 – 2010, The Rodale Institute
Dr. Johannes Lehmann, Department of Crop and Soil Sciences, Cornell University
Ala Lindsey, Researcher with Stanford University Research Team, Kohala, Hawaii
Penny Livingston-Stark, Co-Director of the Regenerative Design Institute and Co-Manager of the Commonweal Garden Organic Farm, Bolinas, CA
Kevin Lunny, Rancher, Lunny Ranch, Inverness, CA
Harry MacCormack, Organic Farmer, Sunbow Farm, Corvallis, OR
Klaas Martens,Organic Farmer, Martens' Farm, Penn Yan, NY
Bill McKibben, Scholar in Residence at Middlebury College
Mary Howell Martens, Farmer and Manager of Lakeview Organic Grain, Martens' Farm, Penn Yan, NY
Professor Steve McGrath, Senior Principal Scientist, Rothamsted Research, Harpenden, United Kingdom
Dr. David R. Montgomery, Professor of Earth and Space Sciences, University of Washington
Jeffrey Moyer, Farm Director, The Rodale Institute
Dr. David Pimentel, Professor of Ecology and Agricultural Sciences, Cornell University
Dr. Warren Porter, Professor of Zoology & Environmental Toxicology and an Affiliate Faculty Member of Engineering Physics, University of Wisconsin, Madison
Dr. Sohan Prihar, Retired Professor of Soil Physics, Punjab Agricultural University
Will Raap, Environmental Entrepreneur, The Intervale, VT
Judith Redmond, Farmer and Partner at Full Belly Farm, CA
Dr. John Reganold, Regents Professor of Soil Science, Washington State University
Dr. Kate Scow, Professor of Soil Science and Microbial Ecology Department of Land, Air and Water Resources, University of California at Davis
Ray Schutte, Community Garden Advocate and President of P-Patch Trust, Seattle, WA
Peter Segger, Farmer, Blaencamel Farm, Wales
Bob Shaffer, Agronomist, Horticulturist and Viticulturist, Soil Culture Consulting
Dr. Vandana Shiva, Physicist and Environmental Activist
Balwinder Singh, Farmer, Kothy Gradhirin Wala, Punjab, India
Chamkour Singh, Farmer, Kheti Virasat Mission, Punjab, India
Dr. M.P. Singh, Soil Scientist, Navdanya Farm, Dehradun, India
Rajendra Singh, Water Conservationist and Founder of Tarun Bharat Sangh, Rajasthan, India
Sally Smith, Former Head of Information and Training at Garden Organic Ryton, Coventry, United Kingdom
Dr. Saran Sohi, Former Soil Researcher, Rothamsted Research, Harpenden, United Kingdom
Dr. Janice Thies, International Professor for Soil Biology, Cornell University
Dr. Peter Vitousek, Professor of Biology, Stanford University
Warren Weber, Farmer, Star Route Farms, Bolinas, CA
Hans Werner, Founder of Sekem Medical Clinic
John Williams, Owner and Winemaker, Frog's Leap Winery, Rutherford, CA
Dr. Edward Yeboah, Research Scientist, Soil Research Institute, Ghana, and Rothamsted International African Fellow, Rothamsted Research, Harpenden, United Kingdom